Cultural Consumption
Protest and Theatre: Thoughts on Red Emma and the Mad Monk
A new experimental play about protest, political action, and online activism raises questions about what role theatre can play in social change.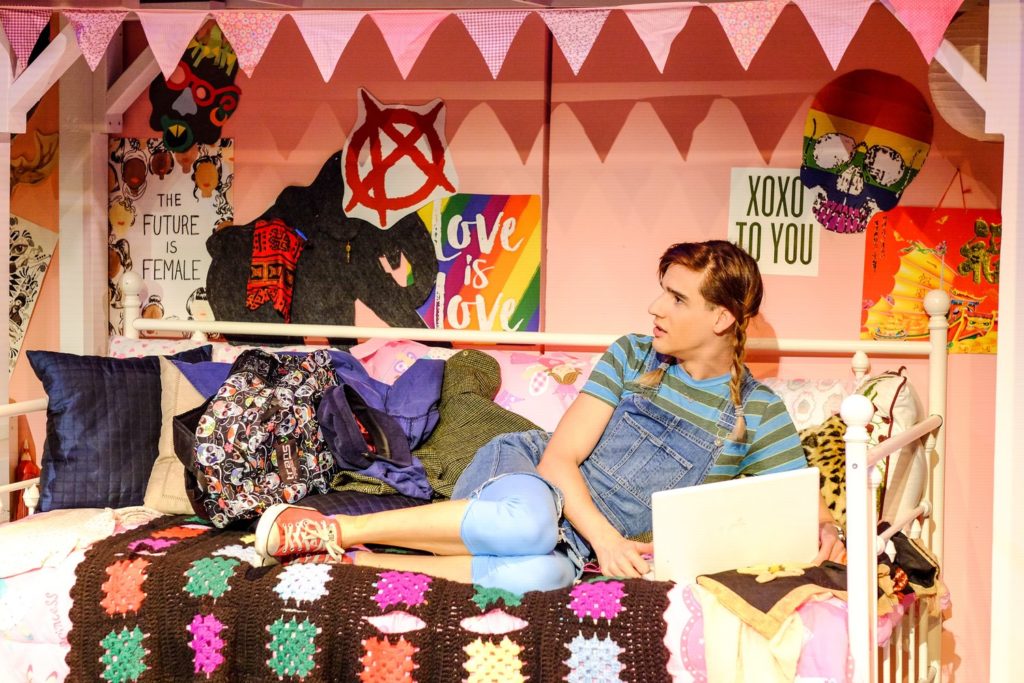 Red Emma, Twitter Activism, and Theatre as Protest
This past August, Red Emma and the Mad Monk played at The Tank as part of Lady Fest 2018, "a series of new work by some of the most exciting lady-identified artists in New York." Co-created by playwright Alexis Roblan and director Katie Lindsay, Red Emma begins in the bedroom of 12-year-old Addison (Maybe Burke). This American girl is very online, "a digital native," per the New York Times, and actually discovered her imaginary friend, Rasputin (Drita Kabashi), in a YouTube doc.
In digging around the internet, Addison discovers the biography of turn-of-the-20th-century anarchist Emma Goldman (Imani Pearl Williams), who comes alive onstage with friends and fellow agitators Sasha Berkman (Fernando Gonzalez) and Modest Stein (Jonathan Randell Silver). Addison's new friends have a plot to assassinate industrialist Henry Clay Frick, and their radical ideologies prompt her to consider her own political action. Enough YouTube clips about seizing the means of production: she wants to do something, too.
Red Emma is full of riffs on pop culture and historical references. Addison and Rasputin have a discussion about contemporary online activism techniques like doxxing and Twitter trolling, accompanied by musical numbers from Goldman, Berkman, and Stein. Clips from recent news cycles play behind Rasputin, as historical references meld with contemporary ones. The play feeds on the anxiety surrounding influence and information, and with themes of protest and revolution at its center, the plot circles in on the question: what exactly is political action? How does a Twitter war stack up against an assassination attempt? All of this, heightened by the perspective of a 12-year-old, feels overwhelming, but very familiar to an experience in a theatre—and an hour spent online.
Theatre has a historic relationship to politics and protest. In Henrik Ibsen's A Doll's House (1879), protagonist Nora leaves her husband at the end of the third act, famously sparking debate around women's social roles; in the 1920s and '30s, thousands of Soviet Blue Blouse theatre troupes performed anti-capitalist agitprop theatre in cafeterias and on factory floors; and in 1914, German theatre artists founded the city-owned Volksbuehne (People's Theatre) with the goal of making the politically-minded theatre of the time accessible for the working class. A catalogue of other movements, troupes, and genres, demonstrate the historic relationship between theatre and politics, from the Workers' Theatre movement to Brecht's Epic Theatre, to mid-20th century experimental groups, some of which still operate today. Avant-garde theatre, folk theatre, theatre for social justice, site-specific theatre, immersive theatre: theatrical performance has time and again been used for political purposes, and plays like Red Emma show us that theatre continues to be a powerful political art form (check out Laura Shalson's Theater & Protest and its bibliography for a primer on the subject).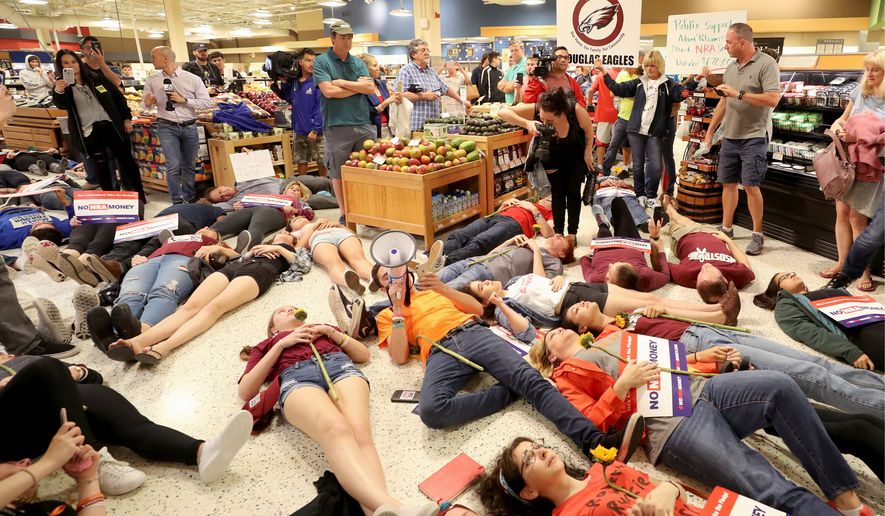 Political protests and demonstrations, meanwhile, are performances in their own right, and often use theatrical forms to express their intent and persuade an audience. At the very least, rehearsal and planned "staging" are theatrical practices that give shape to protests like sit-ins, die-ins, and planned non-cooperation. Often, protesters attempt to draw lines between audience and spectacle. And sometimes, those dynamics can be dramatically manipulated. For example, protests at the Kavanaugh hearings in October shattered an already existing fourth wall between Senate hearing committee and audience, shifting the dynamics of an entire courtroom on national TV. As chairman Chuck Grassley read his opening statement, women sprang from their seats in the back of the room, yelling, "Vote no on Kavanaugh!" They momentarily had everyone's attention, and as the room turned around to see the source of the commotion, the hearing committee was turned into a captive audience. Necks craned, phones flew into the air, and cameras that had been trained on an awkward Kavanaugh widened their focus to capture policemen forcing the protestors out of the courtroom. Public protest is live, embodied spectacle as much as any theatre piece.
But while theatre and protest have much in common, theatre performed in commercial theaters does not do the site-specific, uncommodified work of public demonstration, and often only reaches a very specific paying audience (the average Broadway-goer makes over $200,000 annually). Articulating this as a theatrical anxiety, Shalson writes: "[The relationship between theatre and protest] is beset with doubts about theatre's capacity to intervene in the social world."
Red Emma centers Addison's anxiety about political action onstage. Situating her in her millennial pink room with her imaginary friend, asking what she can do, the show makes a kind of meta-comment, calling upon these theatrical doubts. Here we (everyone in the theater) are again, talking about politics and action, but what are we actually doing? Can we do anything while we're sitting here? What's really at stake inside this nice theater?
Roblan and Lindsay were inspired by questions like these in the making of the show, especially as they pertain to new online social spaces, like Facebook and Twitter. In describing her inspiration for Red Emma, Roblan goes right to the root question: "What is activism? What is the difference between writing a Facebook post and attending a protest? When does speech become action? Are any of these tactics effective—why or why not?"
The Business of Theatre and Political Engagement
In a previous Culture Track piece, Natalie Lemle wrote about museums and corporate citizenship, outlining how public, on-site performance protests, like Nan Goldin's P.A.I.N., have pressured large cultural institutions to meaningfully align their corporate practices with their missions. Importantly, Lemle notes that museums stand to gain financially by marketing socially conscious practices.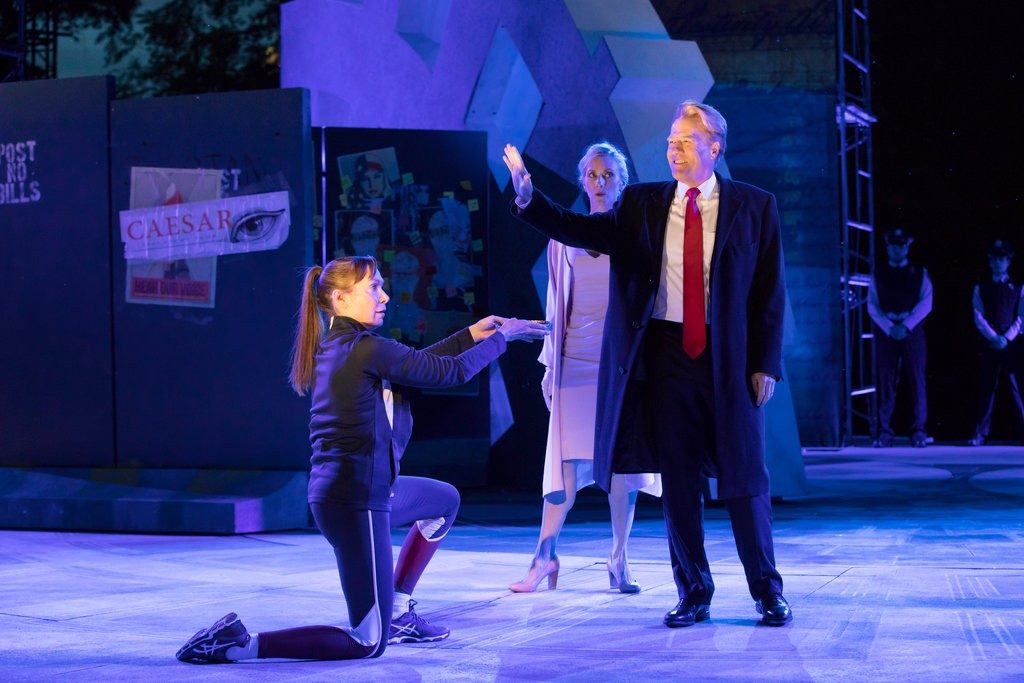 Institutional theatres may be taking similar notes post-2016, as popular shows have engaged heavily with the contemporary political landscape. George Orwell is trending: a staged adaptation of 1984, which originally premiered in London, 2013, received a limited run on Broadway in 2017. Director May Adrales mounted a gruesome production of Animal Farm at Center Stage in Baltimore and Milwaukee Repertory Theatre. Broadway has featured a string of socio-politically engaged theatre, from Sweat to Oslo, to A Doll's House, Part 2, and Michael Moore's The Terms of My Surrender. Perhaps most notably, the Public Theatre's 2017 Shakespeare in the Park production of Julius Caesar featured a blonde Caesar in a business suit, whose third act assassination sparked outrage among conservative pundits, disgruntling enough Americans that Bank of America and Delta Airlines withdrew funding from the production, with Delta ending its partnership with the Public entirely.
The theatre of politics might be a hot commodity, but the politics of performance don't begin or end at programming and ticket sales. Unique to live, embodied storytelling is the potential for actors to distance themselves from their characters and, even on a Broadway stage, turn a night of entertainment into a few minutes of social and political reckoning. In November 2016, Brandon Victor Dixon and the cast of Hamilton used their curtain call to speak directly to Mike Pence, who had shown up to take in the Broadway hit. "We, sir — we — are the diverse America who are alarmed and anxious that your new administration will not protect us, our planet, our children, our parents, or defend us and uphold our inalienable rights," he said. "We truly hope that this show has inspired you to uphold our American values and to work on behalf of all of us." The President of the United States-elect tweeted soon after: "The Theatre must always be a safe and special place. The cast of Hamilton was very rude last night to a very good man…" Then, a paternal order to "Apologize!"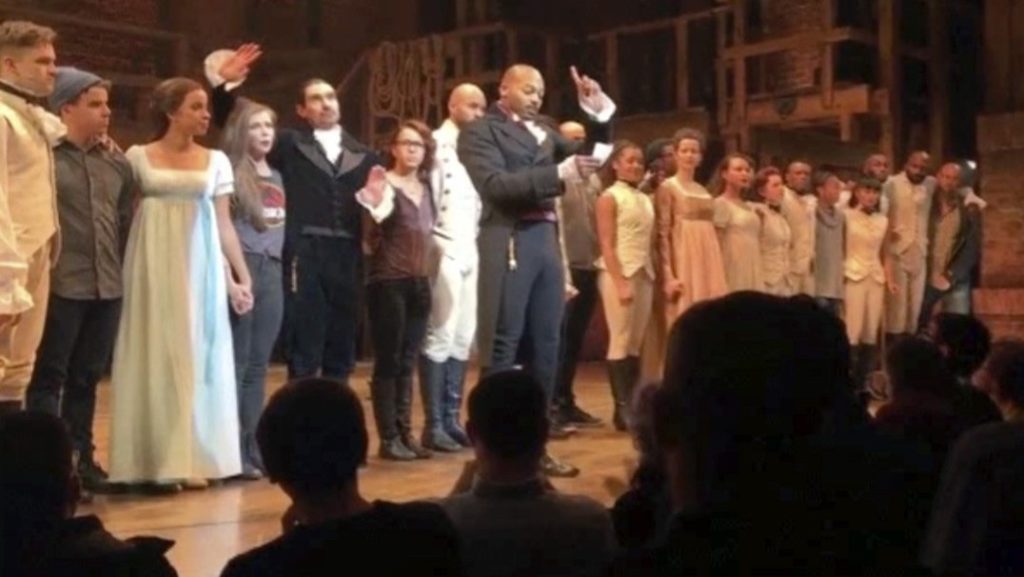 Would Addison consider Dixon and the Hamilton cast's statement to Pence political action? The spectacle was enough to provoke a response from the President-elect. And though we might not consider Broadway and or traditional theatre as explicitly politically active as protest and avant-garde performances, the Hamilton cast and the Public's controversial interpretation bring us back to Roblan and Lindsay's initial concern: what is activism? And what's at stake? Can a paid-for narrative provoke real political change, and can representations of powerful people cut deeply enough to shift political power?
Roblan's take is sure:
I'm a politically-engaged person, and I certainly reject the notion that art can exist outside of politics. [However,] art is not direct. It does its best work while sitting in the human mind and soul for days and weeks and years and twisting and turning and moving unpredictably … I don't think theatre is a great tool for direct social or political change, but I do think it's an incredible and maybe necessary tool in laying the groundwork for that change. I think that any art which compels people to sit silently and take something in, particularly something that asks questions of depth of its audience, creates a more introspective, thoughtful and engaged population — and the import of introspection and self-questioning in a moment like this feels immeasurable.
Overwhelmed by an environment of information and noise, but stimulated by rich radical histories, Addison voices her anxiety about how she can do something, and what that something would even look like. Is that voicing a kind of groundwork in itself? In a review of Red Emma for Theatre Is Easy, Keith Paul Medlin has a final takeaway: "Please listen. Then take action. It's as easy as ordering a pizza." But is it easy? Is the kind of "doing something" that Addison craves as flat as an iPhone screen? Red Emma brings us toward a live, deeply social kind of "doing something"—the kind that creates the possibility of confrontation, discomfort, and reflection.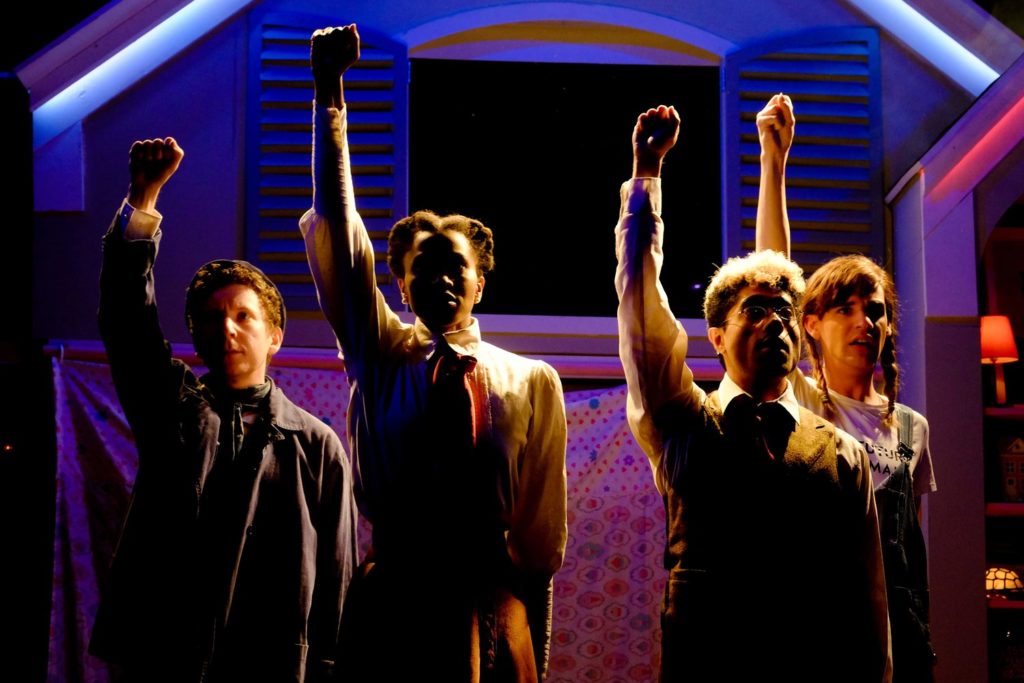 As Addison scrolls, reads, dances, and sings her way through Red Emma, she and her co-conspirators show us how exciting and paralyzing the accessibility of contemporary political discourse can be. Yet the show, informed by a history of protest and performance, and bursting with references to politics and artistic forms, never burns out or loses momentum. Red Emma doesn't just ask if theatre can stay relevant or keep up with rapid-fire news and protest—it enthusiastically says yes, and it embraces the potential of embodied performance on a stage. It complicates gender, age, race, and history; actors assume the roles of dead Russians, a 12-year-old girl, and stiff bureaucrats, all with sincerity and parody. In taking the time to play through a collage of forms and stories, it makes theatre of that anxiety-ridden impulse to take action. Addison's anxiety about "doing something" is embedded in 1 hour and 40 minutes of doing something beautifully nuanced—perhaps a kind of activism in itself. Reflecting on the production as a whole, Roblan looks back along those lines too:
What became more and more apparent to me and my collaborators while bringing the show fully to life this summer, was that deepening a political conversation can feel like a transformative political act in and of itself.
-Matt Hunter, 12/21/18