Cultural Consumption
Clickbait Couture: Branding, Logomania, and the Future of Fashion
As the streetwear bubble reaches its peak, many critics are wondering what's next for fashion.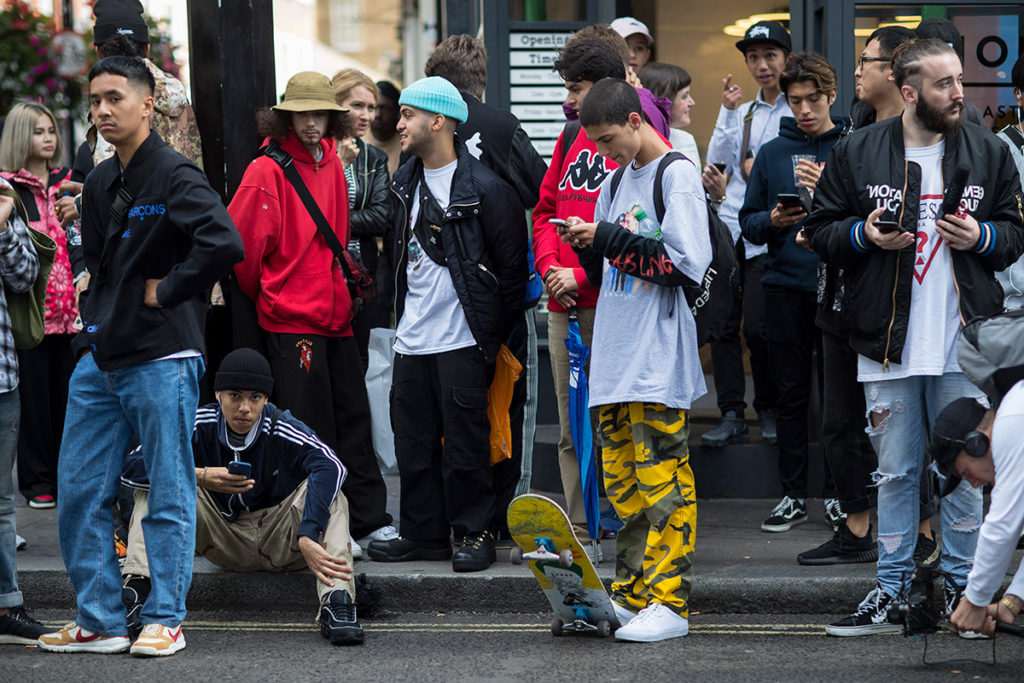 Is fashion in the midst of an identity crisis? Brands are switching creative directors (see: Burberry, Calvin Klein, Givenchy, Céline), labels are changing their brand identities, and everyone is struggling to stay relevant in an environment where consumer attention moves as quickly as posts on a constantly-scrolling Instagram feed. We are at the tail-end of a moment characterized by a dual fascination with early aughts gaudiness and athleisure ease, two concepts which have dovetailed to create a boom in designer streetwear, headline-grabbing collaborations, status accessories (two words: Gucci. Belt.), and all-logo everything. But after a solid five years of sweatshirts and logo tees dominating the fashion scene, the global craze for name-brand basics may be headed for a burst. As we look towards our uncertain sartorial future, we have to ask: how did we get here– and what will the next fashion phenomenon be?
Streetwear Goes High Fashion
The streetwear movement has been one of the biggest trends to hit the fashion world in recent memory. In the past decade, it has transformed from a subculture favored by skaters, punks, and hip-hop artists, to a global phenomenon. Nostalgia for the tracksuits, logo tees, and sweatshirts of the 90s and 2000s has re-invigorated brands like Supreme, Stussy, Champion, Fila, and Juicy Couture. Meanwhile, newer brands like Anti-Social Social Club, Alyx, Kith, Kappa, and Off-White have cropped up, offering spiffy basics screen-printed with archival photographs, souvenir-store graphics, and ever-present logos. Established design houses are emulating "street" brands, with designers like Balenciaga's Demna Gvasalia, Burberry's Christopher Knight, and Gucci's Alessandro Michele sending logo-covered tracksuits, t-shirts, and shower slides down their runways. It is easy to understand why designer houses are embracing the simplicity of streetwear: these pieces are cheaper to mass-produce than more complicated cut-and-sew patterns. And designers also stand to benefit from what Douglas Brundage calls the "drop-economy" favored by brands like Supreme and Yeezy:  the built-in hype of limited-edition collaborations, special pieces, and lines of label-conscious teens camping outside boutiques helps create rarity where there previously was none, allowing designers to hike up prices. Though designer pieces are much more expensive than their mid-market counterparts, consumers sought out casual-chic status accessories: the LYST index, which tracks which items consumers are seeking out most, notes that top-selling items in 2018 include the aforementioned Gucci logo belt, an Off-White industrial belt, chunky FILA disruptor sneakers, and, in the menswear category, designer pool slides from Prada and Versace and sneakers from Balenciaga and Yeezy. Casual, athletic styles reign: the model-off-duty style du jour has morphed from the t-shirt-and-jeans uniform to the tracksuit. Demand for athleisure pieces in breathable, stretchy fabrics has skyrocketed, while consumption of actual performance gear (i.e., athletic clothes made exclusively for athletics) has tumbled.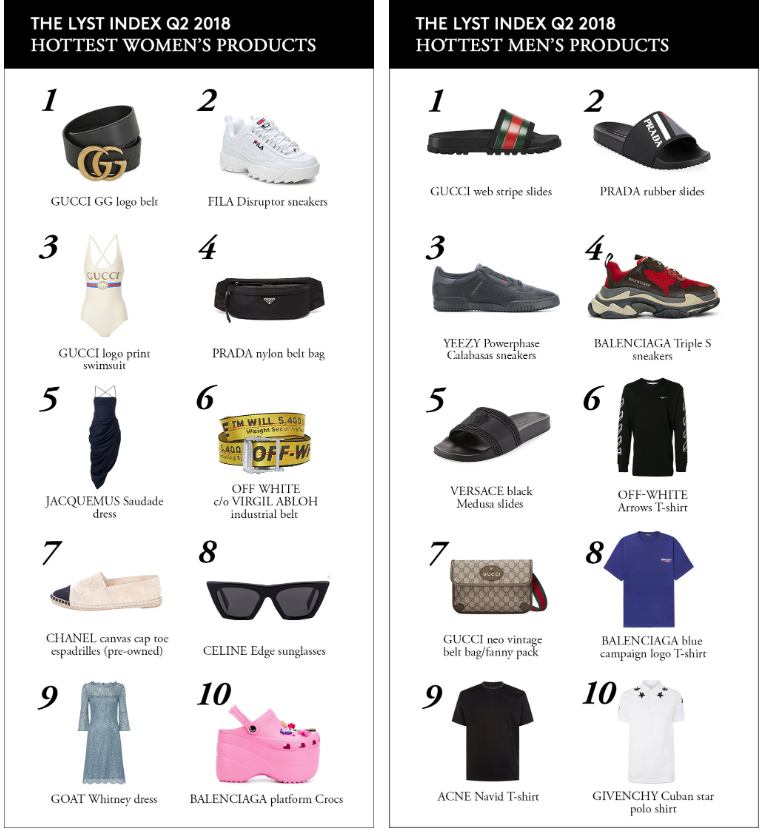 Brundage calls streetwear "a single red thread that extends through youth culture in nearly every major city around the globe." And indeed, gear like Gucci slides or Balenciaga platform Crocs signal that their wearers are part of the sartorially clued-in global elite, a secret code transcending nationality and language. The hordes of consumers proudly wearing head-to-toe brand logos are, as Dara Prant writes for Fashionista,  "less concerned with the history of those houses than the sense of community and specialness they get from participating in the fashion moment." Since individual pieces are pretty much interchangeable– slides, sweatshirts, tees– the clothing itself acts more as a vehicle for their brands. In other words, the brand is the statement. Ayesha A Sidiqqi writes for Ssense, "The logo driven designs we call 'streetwear' [have] always [been] more merch than fashion." Accordingly, devotees show their allegiance to their stylistic tribes by fashioning themselves into walking billboards for the designer of their choice.  
FASHION AS MERCH AND "BLANDING"
Somewhat confusingly, as logos become more and more present on our clothing, luxury brands are making themselves simpler and simpler. Thierry Brunfaut notes that designers have been adopting clean, sans-serif logos that ape the friendly, colorful minimalism millennials have come to embrace in their apps, a trend Brunfaut names "blanding." Designer logos, including those of Saint Laurent, Céline, Diane Von Furstenberg, Valentino, Balenciaga, Rimowa, and Calvin Klein, are beginning to resemble those of tech companies like Uber, AirBnB, and Google, abandoning idiosyncratic typefaces and heritage-focused branding in favor of "bold colors and sans-serif type [that will] play well across the diverse media on which brands today must live." Siddiqqi links the "blanding" trend to the fashion-as-merch: "everyone want[s] to look as clean as a sticker or tech brand, i.e. more merch-ready."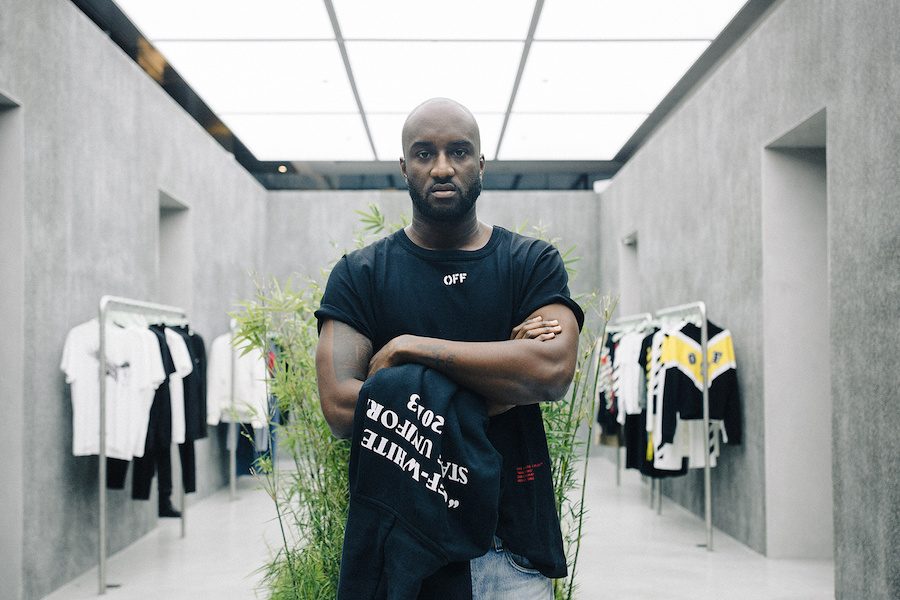 Perhaps no designer better embodies the "streetwear-as-merch" movement better than Virgil Abloh, head menswear designer for Louis Vuitton and creative director of cult label Off-White, which produces pieces so rare they are regularly resold for several times their market value. In his Vanity Fair profile of Abloh, K. Austin Collins calls the designer less interested in fashion itself than "in the ideas he has about its consumers. To him, the premise of streetwear is not only design but consumption … In other words: make what people will want." For better or worse, this entailed buzzy collaborations with everyone from Nike and Jimmy Choo to Ikea. Abloh is hyper media-literate, attuned to what people want– not just in terms of what to wear, but what they want to be photographed wearing.
WILL THE STREETWEAR BUBBLE BURST?
Although Abloh has been riding high as this era's King of Cool, the streetwear bubble may be about to pop. As prices soar, the veneer of counter-culture cool is starting to wear thin. i-D's Clementine de Pressigny writes, "When it becomes all about extremely blown-up prices on resale sites, when cost doesn't correlate with an sense of value, and when meaning has been lost into the deep abyss of late-capitalism, streetwear loses its ability to capture the mood of youth culture." Critics seem to be tiring of casual-chic, too. At the Paris S/S 2018 collections, The New York Times's Vanessa Friedman was excited to see a return to more buttoned-up fashions: "There was barely a hoodie in sight. The sneakers that had shown up as shameless market bids on so many runways in New York had disappeared by the time we got to Paris. It may seem like a small thing, but it was striking."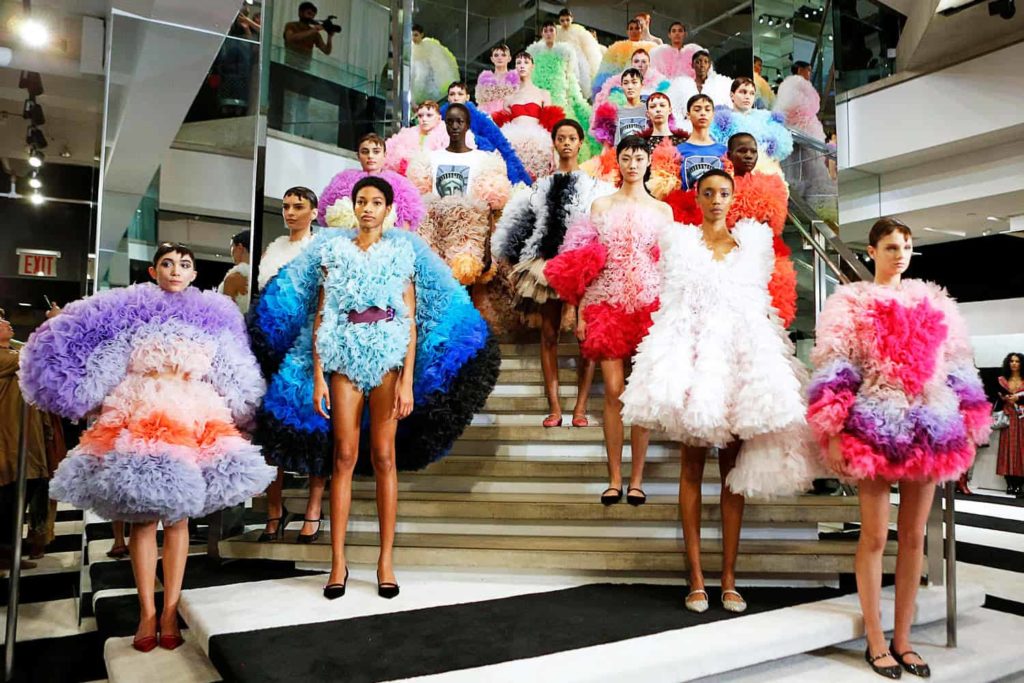 Which brings us to this year's Fashion Week. So far, the critical reception has been tepid. Jo Ellison theorizes that the lack of enthusiasm at New York's fashion week can be attributed to Calvin Klein's decision not to show this season, a cancellation that, Ellison writes, "has left an unprecedentedly big hole in the schedule … a salient reminder of how valuable power brands capable of staging huge attention-grabbing shows are in stimulating interest … in a city." Instead of established brands making headlines, media focus has shifted to runway newcomers with compelling narratives. One of the most-hyped shows at New York Fashion Week, the debut collection of Tomo Koizumi, was covered widely not just for its frothy tulle outfits and supermodel cast, but also because of its highly-publicized origin story, which the New York Post called "the stuff of fashion fairy tales." The show– as reported breathlessly by Vogue— was put together in just three weeks, after stylist and editor Katie Grand contacted the Tokyo-based, costume designer and celebrity stylist, whose designs she had seen–where else?–on Instagram. Koizumi was set up in Marc Jacobs's showroom, with assistance from industry veterans Pat McGrath and Guido Palau. Financial Times called it "the buzziest show at New York AW19," and "a happening, of the type today that are all too rare."  Garage called the show, which happened only one day into fashion week, "already the best thing that happened at NYFW," while Harper's Bazaar wrote the show, "put the magic back [in] a lackluster fashion week."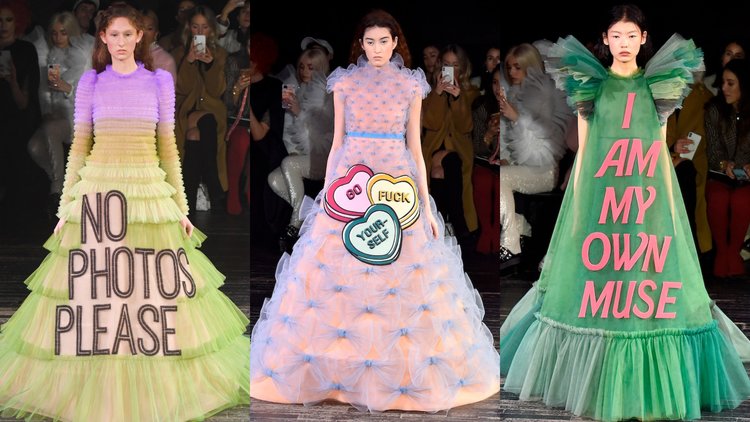 Other standouts included California cool-kid line NO SESSO, the LA-based design duo whose genderless Fashion Week debut collection was widely covered for making history as the first clothing line designed by a transgender woman to show in an official NYFW runway. Chromat, a swimwear-and-bodywear line, made headlines for its colorful clothes–and, especially, for its casting of models of all abilities, sizes, genders, and races. Reviewers were enthusiastic about Chromat's climate-conscious interpretation of Miami swimwear, but, as Samhita Mukhopadhyay writes for Teen Vogue "what really sticks out at a Chromat show is how much the crowd cheers as they see models that represent a new world confidently stride down the runway." Meanwhile, the Dutch design duo Viktor and Rolf got coverage for their Paris showing of massive slogan dresses, which featured phrases like "I'M NOT SHY I JUST DON'T LIKE YOU" "WHATEVER," and "LESS IS MORE," that read more like memes than fashion statements. Designer Rolf Snoeren tells Women's Wear Daily, "It's the kind of message you find on social media, with the same instant feeling," This click-friendly fashion, in which massive graphics were the clear focal points, was embraced not just by fashion crowds but the mainstream media writ large. Cosmopolitan called the collection "the most relatable thing you've ever seen on the runway," while Bazaar deemed it a "walking mood board for the year 2019." Viktor and Rolf's audience seems to be social-media scrollers: the dresses are graphic and eye-catching enough to have you stop your endless feed for a second, but not much longer. While the collection garnered a whole lot of press (it popped up on the Today show and in Time),  the gowns are anything but timeless: like memes, social media posts, and viral video challenges, they exist within a specific moment. Only time will tell how history treats the streetwear movement, but the current runways, with their technicolor clickbait couture, suggests that it is probably part of a larger mechanism that is constantly churning out new content to maintain consumers' interest. Despite all the re-branding, blanding, and simplifying in fashion, it is likely that the logo-saturated "it" pieces from the past few years will eventually become just as dated as, say, low-rise light-wash denim or parachute pants–snapshots from a particular moment in time that will do nothing as much as evoke a strong memory– that is, for a few years, until the nostalgia machine has us revisiting Supreme hoodies and Off-White sneakers and reminiscing about our streetwear days.
-Eve Felsenthal and Sheenie Yip 2/15/19