Cultural Consumption
/
Impact
A Performer Reflects on Singing in the Mile Long Opera
From October 3rd to the 8th, thousands of singers converged on New York City's High Line park to perform the mile-long opera. Here, we speak to one of the performers, Rob Hansen, on his experience.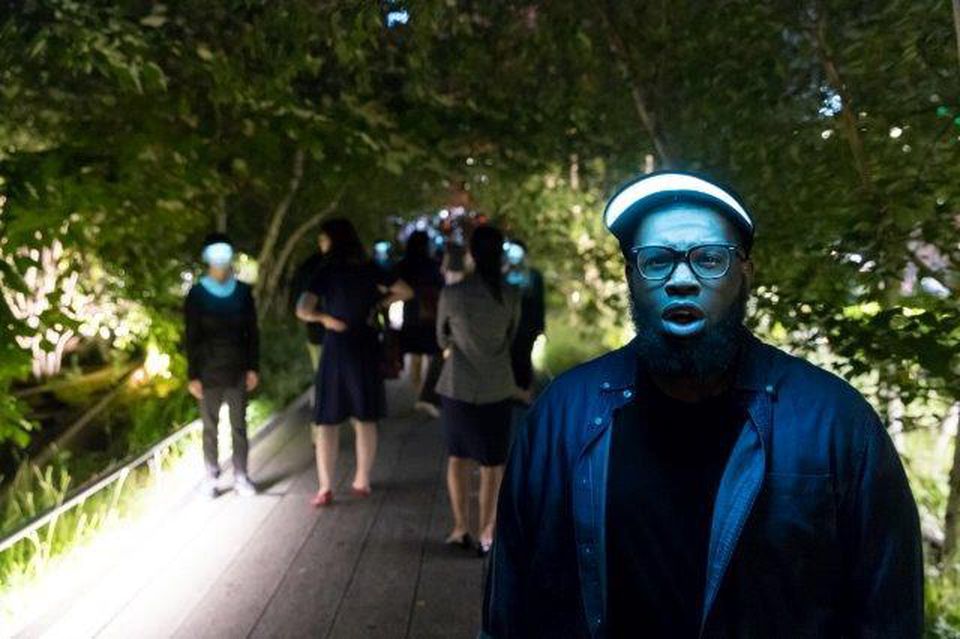 From October 3rd to the 8th, thousands of singers converged on New York City's High Line park to perform the mile-long opera, a six-night immersive musical piece composed by David Lang, produced by Diller Scofidio + Renfro, written by Anne Carson and Claudia Rankine, and directed by Elizabeth Diller and Lynsey Peisinger, with music direction by Donald Nally. Here, we interview Rob Hansen, who participated in the piece. Hansen is an Associate Strategist at LaPlaca Cohen. He spends much of his free time singing in various professional choirs around the city.
Hansen: Diller Scofidio + Renfro, who were heavily involved with the work of that area–they did the High Line, they're doing the Shed now–were the production team. What's interesting about this project is that they, as an architecture firm, are considering themselves as facilitators or producers of work in public space, whether that is a structure or a program. Their identity is a little more fluid. Rather than just building brick-and-mortar structures, they're also producing work that's more interactive with the public space. Liz Diller has said in the past that they've always seen the High Line as a stage. They wanted to do a big public work, this journey across one and a half miles of the High Line, from Gansevoort Street up to the Shed.
Some 1,000 professional and community singers from 40 choirs around the city participated in the opera.
Hansen: I sing regularly with a bunch of choirs around the city, and the contractor who signed me up is affiliated with one of those choirs. He had been asked by the production company [for the mile-long opera] to find fifty or sixty different singers. There were a lot of singers. We had a tech rehearsal and a dress rehearsal, so it ended up being eight nights in a row.
There was a raised overpass element for my part, so I was set back from the path, and others in my section were under the audience. The physicality of the whole work was really essential. You can't help but interact or discover things in the space. The audience couldn't see me, they could only hear me, and they would peer in, so that was mystical and interesting.
There's no instrumental accompaniment, it's all from the voice. There's no underlying music, which can be hard, and so there's expectation and pressure on community singers versus the professional singers. One being more adept and doing this for a living, versus the casual community oriented singer who loves to sing, but is now being asked to be Marina Abramovic for eight nights in a row. The endurance element while also maintaining musical ability is really really hard, and that was a hugely difficult structural thing for [the organizers] to deal with: how do you teach a thousand singers this music to the extent that they can own it themselves after two or three rehearsals? It's kind of amazing that it had such an effect, given all the structural constraints.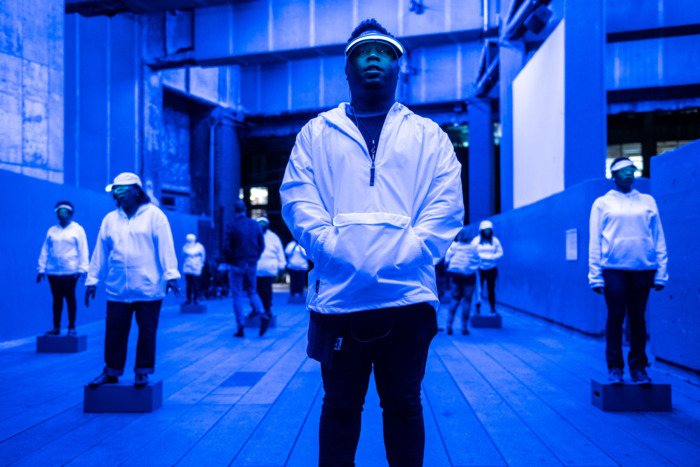 Subtitled, "A Biography of 7 o'clock," the mile-long opera was composed by Pulitzer Prize winner David Lang. The piece features text by poets Anne Carson and Claudia Rankine, derived from interviews with real New Yorkers. The piece took six years of planning, three months of rehearsal, and the participation of thirty-five community organizations, including the Greater Harlem Chamber of Commerce and the Jacob A. Riis Neighborhood Settlement, and forty different local choirs.
Hansen: It's a collection of these texts centered around the theme of 7 o'clock, but the texts are really varied. It's derived both from Anne Carson, who did a lot of verbatim work, and interviews with people from the local area about their experience of that time in New York City, then by extension, what the High Line meant to them. Then Claudia Rankine, a text of hers is also dispersed through that. So that's a text that is set to music by David Lang, an established new music composer. He's in the canon and has a reputation for music in public spaces. He previously did a project at Lincoln Center [the public domain] that I think was an interesting precursor to this. The music was structured for a number of different people in a public space, so that the audience could then immerse themselves in it. Lang won the Pulitzer Prize [in 2008] for the little match girl passion, which is sort of his calling card, and he's deeply involved in the new music community, co-founding Bang on a Can. So we're talking about, real high art and established figures, as well as the High Line itself.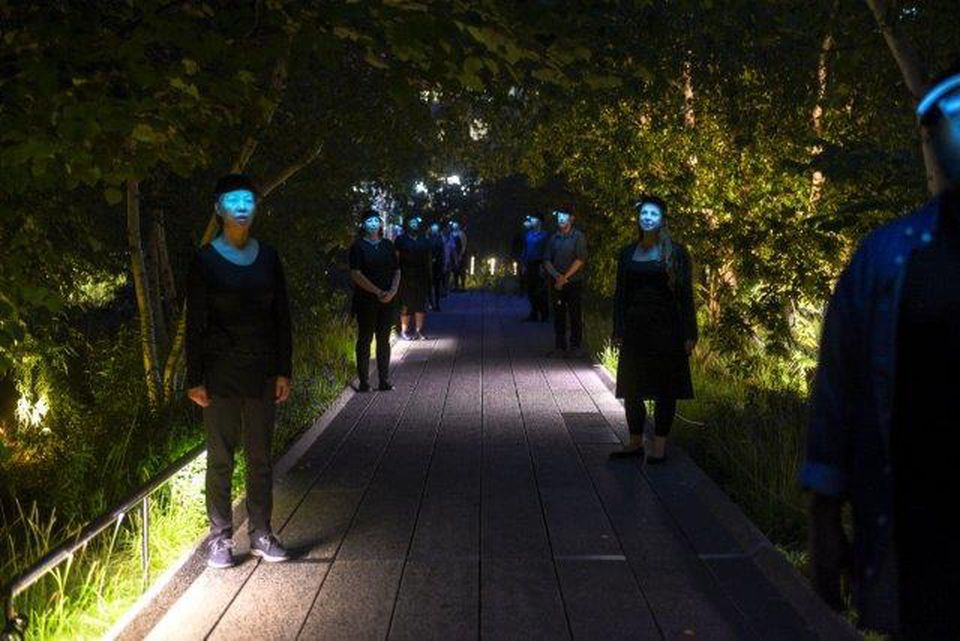 Performers were dispersed across the High Line's one and a half miles, some positioned directly in viewers' paths, some in the park's over- and under-passes. Each singer had a block of text which was repeated throughout the piece, with some variation in tone, texture, and note.
Hansen: [The piece is] trying to elevate these very regular, everyday responses and recollections about what the city means to people. So some performers were singing about really personal, intimate, mundane things. But I should emphasize that as a performer, I don't get a sense of what [the whole piece] was like for the viewer at all. I was in area 16, so I had my body of text and music, and didn't get the opportunity to walk through it myself. My text was:
"Amber will you marry me / I used sixty feet of day-glo lettering, all along the eastern fence of the track / it was just a construction zone then / Amber lived across the street, boy was she surprised / it's all erased now, Amber too."
And that's it, over and over again, to a melody that locks in. I was in the bass baritone part, and there was a tenor, alto, and soprano part that interlocked with that. And the effect, when it worked, was really quite stunning just to hear. David Lang composed these works as a series of tone clusters. There was a set of notes from which each performer could choose what they wanted to sing. They could sing it as repetitiously or as slowly or as lightly or as heavily as they wanted, and that would give this kind of flowing effect that you could hear, this cloudy sense of the sound.
I think the best thing about this project was the really human way in which people reacted, by which I mean, completely randomly. All of the rules are abandoned. So the expectation for the audience is similarly disregarded or exploded. What are they meant to do?
As a performer, the main thing I took away, from a performance perspective was that [I'm] used to performing on a stage within the confines of a box. [In this piece], although you're distinct from the audience, you're very much aware of their reaction and how they're responding to it. Now, how effective this was for everyone going through it? I don't know. And I would have loved to. I've heard some really interesting and contrasting feedback. I think the best thing about this project was the really human way in which people reacted, by which I mean, completely randomly. All of the rules are abandoned. So the expectation for the audience is similarly disregarded or exploded. What are they meant to do?
There were five or six people who lingered, really felt it, and there were other people who were crying, people who kind of gestured towards me, hugging each other and embracing each other. Other performers were almost in the way of people passing through so they couldn't help but confront people and look at them in the eyes.
It was funny, I was running around Central Park, and this woman was singing a capella on the steps of the reservoir. As I approached her, having been so used to hearing a number of amateur singers on the High Line, I thought, "oh, someone's doing something from Mile-long Opera"–then I realized it was a different song. But it made me realize that you see that in New York City all the time: people are singing on the corner, singing on the street. It felt like a really sort of New York signature to walk up and interact with and be surrounded by musicians and people that wanted to tell you a story.
-Eve Felsenthal 10/12/2018